Good Shepherd United Methodist Church

The Story of the "Yellow Cottage"

Overview

On August 24, 2003, Good Shepherd United Methodist Church held a very special dedication service. Following a shortened service inside the sanctuary, a bag piper led the entire congregation across the street (Mt. Pisgah Road) and into the front yard of the yellow cottage, whereupon the service was extended to formally dedicate the restored bungalow for service in His work. This ceremony was the culmination of four years of decisions, planning, restoration, and a whole lot of sweat equity brought about by the members of GSUMC, in partnership with the Silver Spring Interfaith Housing Coalition. (Read their Mission below)

Beginnings

The Cottage Project began four years earlier with the decison to purchase the property, located across Mt. Pisgah Road from the Church santuary. Initially targeted for demolition in order to provide extra parking, an idea slowly gained favor to restore the dilapidated house and offer it for a greater purpose. A Church member mentioned about "this yellow cottage" to Sara Cartmill of SSIHC. An idea formed that the cottage might be saved and improved, and ultimatley put into service as transitional housing, qualifying for the mission which SSIHC existed.

The house had been purchased from Mr. Phil Rovner, who, although was not a member of GSUMC, was nonetheless a good neighbor of the Church. Upon Mr. Rovner's passing, he left first right of refusal to the Church to purchase the property, which the Church did. (Several of Phil's family members have since visited the project under renovation, and lent their support to the project.)  A committee was formed to plan the renovation and also to coordinate with SSIHC the legalities necessary to eventually transfer ownership of the house, etc., for the intended purpose.  Beginning in July 2001, the committe began meeting in earnest and subsequently set out to renovate the cottage.

There is a long list of recognition due to the many, many volunteers who raised funds (the now infamous "Yellow Cottage" yard sales on the Church parking lot, for example), solicited contributions, organized work days, managed the construction site, recruited volunteers, and fed the masses on work days. As renovations began, volunteers discovered the 1830's stone foundation of Jackson Meeting House, later named Mt. Pisgah Methodist Episcopal Church,. How fitting that the structure began life as a church building!  Further history revealed that in 1924, S.T. Gibson rebuilt a 5-room bungalow on the old foundation. Prior to 1952, another room was added. In 1952, the additional room served as Good Shepherd's pastor's office while the main Church was renovated. Mr. Rovner is believed to have purchased the house in circa 1977.

The cottage's transformation was no easy process. The structure was severely run down and needed a complete overhaul in many areas, including new front and back porches, all new mechanicals to bring it up to code, and new appliances, et al. On 14+ Saturday "work days" teams of Church volunteers, often working alongside professional tradesmen and women worked to restore the house. Of course work was ongoing practically daily as well when professional tradesmen and several very dedicated, retired and semi-retired Church members would continue the work.

House in Service

According to Sara Cartmill, SSIHC's executive director, creating affordable housing in this way combines each partner's strengths by "pairing a congregation's property and volunteers with the non-profit's programming expertise."  SSIHC successfully gained government and private funds that would not have been available to the Church. Funders included the Fowler Memorial Foundation, th Gannett Foundation, the Phillip Graham Fund, the Home Builders Care Foundation, and the Montgomery County Department of Housing and Community Affairs, to name a representative few. Many other local businesses and community connections served to participate through donations and service in-kind.

Nancy Barker, chairperson of th Church's Cottage Committee, kept the process well-oiled with her enthusiasm and "never say can't" attitude. Her leadership provided a vision and working plan to incorporate all of the available resources, and then some!  Mr. Pat McConnell, along with his wife Leilani and church member Marcie Burroughs, served as tri-site-managers to bring the physical restoration to completion. Along the way, upwards of well over 100 volunteers and 60+ donor resources were availed.

Now restored to up-to-date building codes, etc., the house has been turned over to the Silver Spring Interfaith Housing Coalition for use as transitional housing for in-need families. SSIHC's screening program and mentoring program will assist one family at a time for up to three years while the family will work to gain financial and personal independence. Family's will pay 30% of their income towards rent and utilities and a housing voucher will cover the rest.  Good Shepherd will stay involved through the mentoring and selection processes.

For more information contact Nancy Barker at GSUMC, or John Cooper-Martin, SSIHC's case manager.

Cottage Committee

Nancy Barker

Leilani McConnell

Pat McConnell

Barbara Bryant

Dorothy Boyd

Marcie Burroughs

Cozette Carter

Sara Cartmill (SSIHC)

Patti Kearns

Stacey Matthews

Tricia Matthews

Suzanne Matthews

Eleanor Newman

Steve Oriol

Tom Purcell

Sue Shawhan

Lee Stang

Dave Stum

Janice Taggert

Donors

Bob White's Tree Service (Landscaping)

Cardinal Distributors

(W-toW Carpet)

Fehr's Nursery & Garden (Plants)

Linda Ely (Art)

NAPCO (Siding)

Rollin' Supply (Siding)

Sears, White Oak (Area Rugs)

St. John Baptist Church (Paint)

SuperFresh, Cherry Hill (Plants)

White's Nursery (Azaleas)

Lunches

APO Fraternity

Canada Dry

Chesapeake Bagel White Oak

Dutch Country Farmer's Mkt, Burtonsville

Fisher's Produce Burtonsville

Pizza Castle

White Oak

Red, Hot, & Blue, Laurel

The Green Turtle, Laurel

Yoders BBQ Burtonsville

Dedication Sunday

August 24, 2003

James Goodman

Artist

Linda's Cakes

Safeway

Takoma Picture Framers

Whole Foods Market Silver Spring

Silver Spring Interfaith Housing Coalition

Our Mission:  We are a 501c3 non-profit organization of local church congregations working to provide housing opportunities for low income families and individuals, especially persons who are homeless or at risk of homelessness.  We provide professional case management and mentoring, and we help build stable futures for at-risk families and their children.

Since 1991, SSIHC has been working to end homelessness for many families in the Silver Spring and Takoma Park areas.  Congregations can contribute by promoting or partnering with SSIHC, offer property, make financial gifts, develop mentoring teams, an offer your day cares, summer camps, or similar programs at free or reduced cost to needy families.  Individuals can join a mentoring team, provide financial gifts, offer your special homebuilding or computer skills, and fulfill student service credit hours.  Businesses can become sponsors, donate goods and services, and help to publicize SSIHC activities and programs.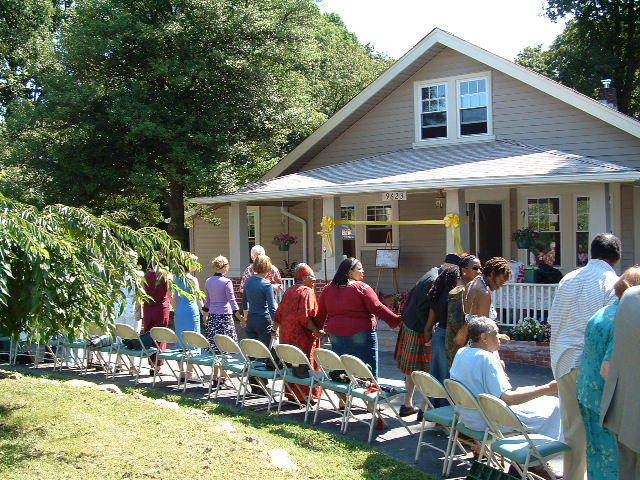 Cottage Dedication August 24, 2003

A poem
, presented at the Cottage Dedication, Aug. 24, 2003